Whether you're just about surviving Christmas or you're actually enjoying it, I hope that this season is the best that it can be, under the circumstances.
But if you do find yourself struggling and need someone to speak with, here are a few places that could help.
If you are grieving following bereavement…
The Cruse National Helpline offers a listening ear and emotional support to anyone who has lost someone they love or been affected by a bereavement. All calls are answered by trained Cruse volunteers. The freephone number is 0808 808 1677.
The Sue Ryder charity runs an online Bereavement Community that is open for anyone who has been bereaved (in the UK).
If you are a bereaved parent…
The Compassionate Friends has a national helpline on 0345 123 2304
It is open every day of the year, including Christmas. All calls are answered by volunteers who are themselves bereaved parents. TCF also has some useful resources here
To talk about anything that is upsetting you
Whether it is grief or anything else, if you are upset and feel like you can't cope, you can always contact Samaritans 24 hours a day, 365 days a year. Call 116 123 (free from any phone).
Samaritans volunteers are well-trained to listen, no matter what is troubling you. You don't have to be suicidal to call. They will listen to any subject that you want to talk about.
Please take care of yourself!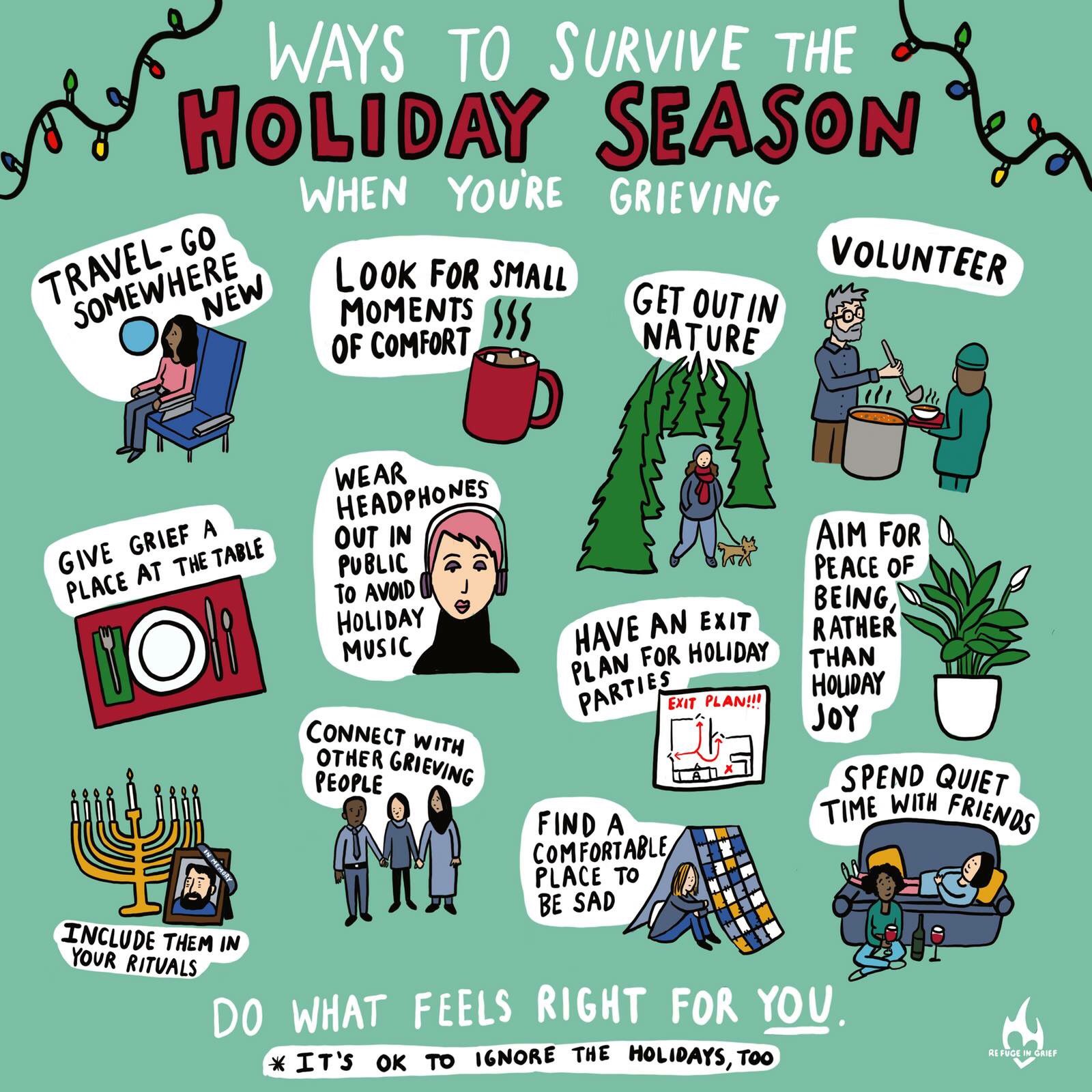 Thanks to @refugeingrief on Twitter for sharing this picture.
As Long as There's a Christmas
The first few lights glow brightly,
as you watch the season start.
You know you should be happy,
but don't feel it in your heart.
Instead, you think about a time
when someone laughed with you,
and the love you shared then filled your soul.
But too soon it was through.
So Christmas comes with sadness,
and a yearning deep inside,
a thirst for love and peace and hope
that will not be denied.
Late one night you hear a voice,
so soft, and without blame,
and then, surprised, you realize,
He's calling you by name.
"I know your hurt and loneliness,
the heartache that you bear.
I listen and I cry with you
through every single prayer.
"I promised in the manger
and fulfilled it from the cross.
I built a home that's filled with love
for all those who are lost.
"So let me come and heal your heart
and give you rest within.
For my way is kind and gentle
and will bring you joy again."
His words still echo through the years,
a vow that He made true,
"As long as there's a Christmas,
I will be in love with you."
–By Jack Zavada