If you are alone this Christmas and need someone to speak with, here are a few places that could help.
If you are grieving following bereavement…
The Cruse National Helpline offers a listening ear and emotional support to anyone who has lost someone they love or been affected by a bereavement. All calls are answered by trained Cruse volunteers. The freephone number is 0808 808 1677.
The helpline will be open from 9:30-5pm on 22nd, 23rd, 24th, 28th, 29th and 31st December
The helpline will be open from 9:30-8pm on 25th, 26th, 27th and 30th December plus January 1st.
If you are a bereaved parent…
The Compassionate Friends has a national helpline on 0345 123 2304
It is open every day of the year from 10:00 – 16:00 and 19:00 – 22:00, including over Christmas. All calls are answered by volunteers who are themselves bereaved parents.
If you are supporting a child or teenager who is grieving …
Winston's Wish runs a free national helpline on 08088 02021
The helpline will be open on 24th December from 9 – 14:00 and then reopen on 31st December.
To talk about anything that is upsetting you
You can contact Samaritans 24 hours a day, 365 days a year. Call 116 123 (free from any phone).
Samaritans volunteers are well-trained to listen, no matter what is troubling you. You don't have to be suicidal to call. They will listen to any subject that you want to talk about.
If you are looking for somewhere to go on Christmas day…
This website called "Community Christmas" has a searchable list of Christmas lunches and other events. (Some are for the elderly only, whereas others are more generally accessible.) You can also find out more by calling 0800 063 9285
Chances are that there are other local events organised near you, at churches and community centres.
If you are alone while you're with people …
To be alone doesn't necessarily mean that there is nobody around. You could be in a roomful of people and it might seem there everyone else is in a different dimension. Your mind can wander and you can feel very isolated in your grief. If that happens, you might want to try to interject yourself into the conversation and/or just step outside for a few minutes.  
More ideas here: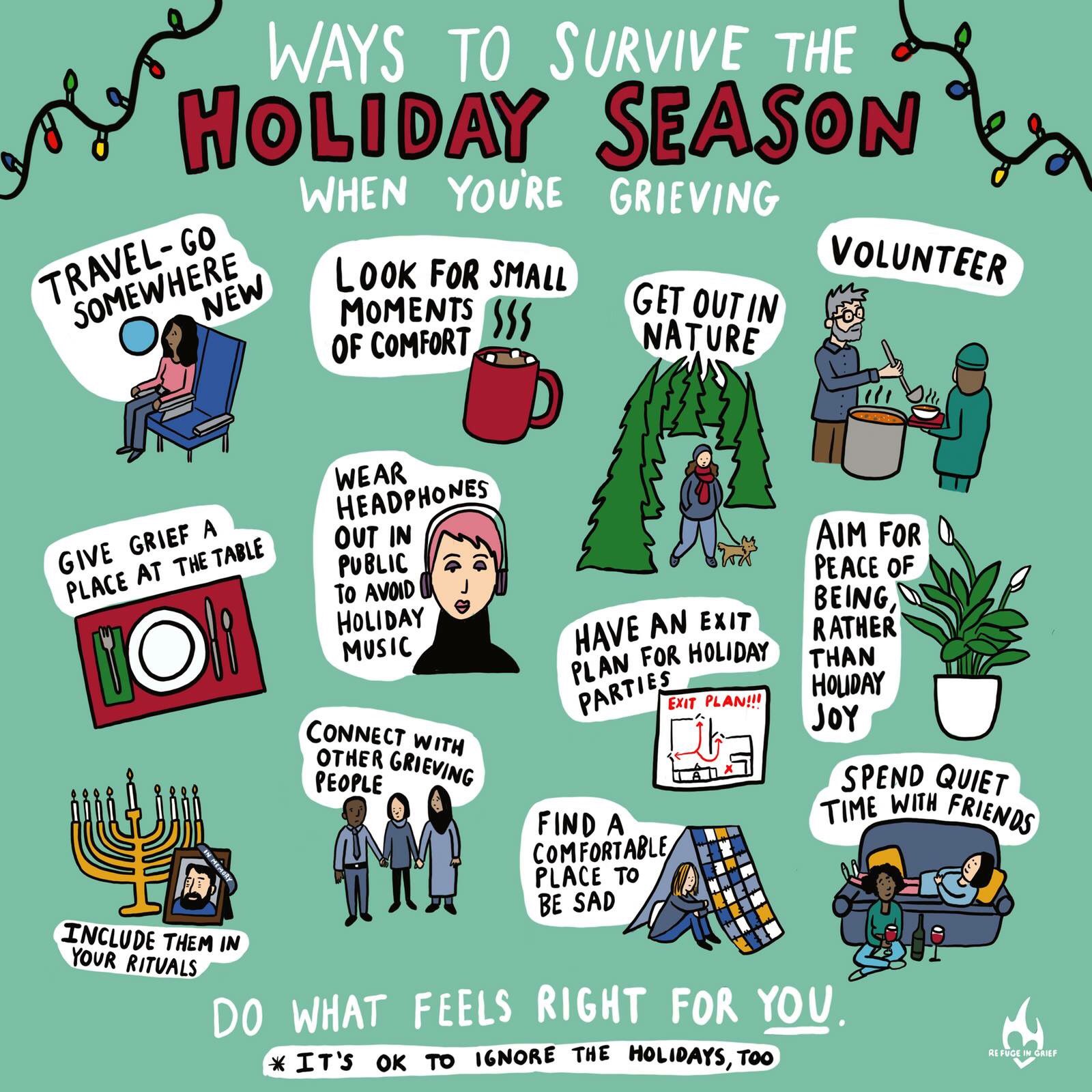 Thanks to @refugeingrief on Twitter for sharing this picture.
If you have any other links for Christmas support to suggest…
Please let me know or add it as a comment
And please share this with others who might need the information.