The Great Orme is a limestone headland in north west Wales, rising above the old-fashioned resort town of Llandudno. I go there at least once a year, and without fail I visit the small ancient church of St Tudno's. It has its origins in the sixth century; the present building dates from the 12th century. It's a peaceful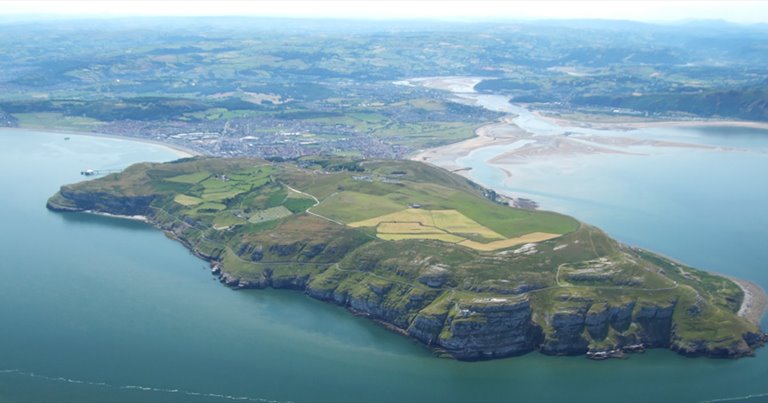 place that I first discovered on a summer walk five years ago, and I've just been back again.
The tramway is the easiest way to get up, but I didn't take it, instead trudging up the steep incline. I don't usually go this route. St Tudno's is on one side of the Orme, and usually I walk along the Marine drive which skirts the edge and take one road up. But I wanted to go this way today, to more closely retrace the steps of my first trip.
It was only about 2 miles, which isn't far, but if you've followed this blog you'll know I have knee problems and each step was painful.
Five years ago, on my first visit, I meandered here and there, with no fixed route nor destination. It was a brilliantly hot and sunny July day, and as I followed my feet, I saw a cemetery below, overlooking the Irish sea.
I remember  walking around the cemetery, reading the gravestones, admiring the view and thinking what a special burial place. And then, on the right, I got my first view of what I was soon to discover: St Tudno's.
I entered here through the entranceway. The sun was hot but it was windy on that first visit, and the ancient church drew me in. Inside it was cool and amazingly peaceful. I was alone in the stillness. I sat on a pew, staring at the simple cross on the altar, meditating on the stained glass windows. I could hear the wind blowing outside, but inside was peace. Amazing peace.  
I love the atmosphere of these really old churches, where you know that countless people over hundreds of years have prayed and praised, wept and sung. This particular church, on the headland with the sea spreading out below and beyond, is literally a shelter from the storm. There are open air services on Sundays in summer, but I like it best at other times. I find the stillness inside, especially when I am alone, is what leads to deep reflection.
At the back of the church, there are postcards, leaflets and parish notices. Now we're approaching the reason why this is part of my bereavement journey. On that first visit in the summer of 2010, I saw an appeal for donations to restore the roof.  In fact it was possible to sponsor a tile in the memory of a loved one. It would be a very nice gesture in his memory to sponsor a tile for Pax, I thought. But then I mulled it over. It was £10, as I recall. That wasn't a great deal of money but at the time we were not in such a good position financially. Still I could manage it, except… shouldn't I spend our limited money on the living? Wasn't he in heaven – why would an earthly memorial be needed? The familiar waves of guilt began lapping at the shore of my soul. The waves grew and grew, and however peaceful the inner site of the church, I was being drowned.
Let me explain. When my son Pax died, I was 25. My faith was central to my life. I'd been a Christian since my teen years; I was in Christian service and had married a very zealous Christian. I didn't know how to handle my son's early death. I was devastated, but was told in no uncertain terms to stop crying, that I needed to "show faith" and that he was, after all, "with the Lord." I took a deep breath, and pretty much held in my grief for Pax for the next 29 years, except for the occasions when I couldn't hold it any longer and it came rushing out, and I would cry and weep. I kept this very private. I hardly spoke of Pax to anybody, always afraid if I did, that my sorrow would explode uncontrollably. So it was a quiet candle lit on his anniversary, and rare occasions of crying alone that were my only expression of my suppressed grief.
Trouble was, even when I did cry (actually a healthy thing to do), I felt guilty. I had been taught that when a loved one leaves this life, we should be happy that their life's journey was over and now they are safe with God. "Rejoice always", "everything works out for the best", were the messages I heard. "Sometimes those who die are better off," wrote my aunt (now deceased) as a way of comfort. Pax was with God, but no matter how much I felt I was supposed to be at peace about this, my son was not with me. He was not growing up. Of course I wasn't at peace in my heart of hearts. I missed him.
The years passed. I thought I wasn't "supposed to mourn", but I did mourn, and felt guilty for it. And that is why, on that sunny July afternoon in St Tudno's, though I thought long and hard about sponsoring a roof tile in Pax's memory, I didn't. I left the church and continued my walk.
Nine months later, in April 2011, my daughter Catherine died. My world came to a stop.
My grief at losing Catherine was indescribable, and it also unlocked the grief I had suppressed for Pax. This time, still a Christian, but not as fervent, and with a more gentle (second) husband, I didn't hold it in. I discovered a new side of faith — the idea of a God of compassion who weeps when we weep and comforts us. (You can read more about this in A Valley Journal in the chapter about Jesus weeping.)
Now I'll fast forward to the summer of 2011 and my second visit to St Tudno's. I don't know if you can picture how much I cried. On the last visit, I had lost one child but had one child still living. Now, both my children were gone.
But another difference was that I no longer felt guilty about my sorrow. I was free to cry, free to express myself to me, to God, to anyone who asked. I could tell them about my children, through my tears, without feeling condemned about mourning. "Blessed are they who mourn, for they will be comforted," said Jesus. It's okay to weep.
If you are a person of religious faith, and you have lost someone close to you, it's possible you have suffered the same type of condemnation. Perhaps your friends, family or members of your congregation want to comfort you by assuring you of your loved one being in a "better place." Perhaps these thoughts wipe away your tears. It's true that "weeping may last for the night but joy comes in the morning", and eventually you may get up and get on with life. But if you're weeping, you're in no less a place of faith. God is there, when we weep and when we walk.
If you are a person of religious faith, and your friend or family member has lost someone close to them, I'm sure you want to help them, but please think long and hard before you speak. Grief has its own burden – don't add guilt. Everyone deals with grief in their own way, in their own time. Tears shed in solidarity will go much further than platitudes.
And to finish my story; as you might guess, on my second visit to St Tudno's I sponsored a tile for my children.